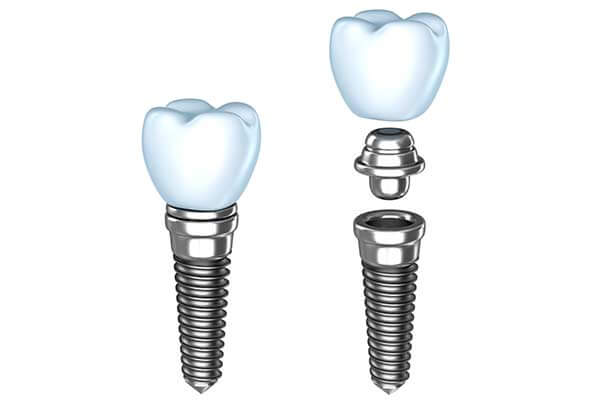 ---
Dental Implants
---
Described as root analog replacements (for missing a missing tooth or teeth) inserted into bone that can support various types of prosthetic replacements. Dental implants are made of of titanium alloys which have been successfully utilized for over 40 years via a process known as osseointegration. Quite simply, These concepts have revolutionized modern dentistry and provide among the most successful overall treatment outcomes to restore ideal esthetics, comfort and ability to chew.
---
Integrated Technology for Implant Placement

We combine the advanced technologies of CEREC® Omnicam and Sirona® Galileos CBCT to offer our patients the highest level of care and safety when planning for and placing dental implants.


---

More about Implants and Integrated Technology
---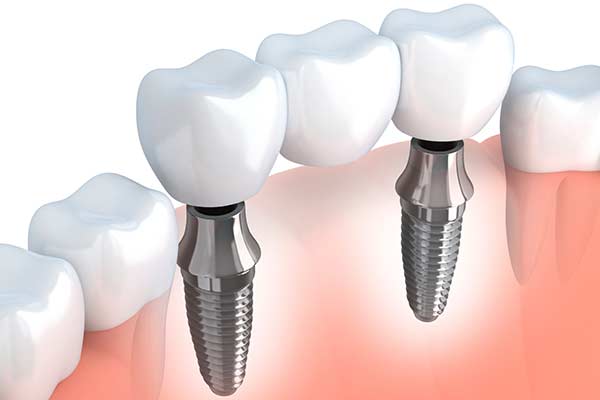 ---
Implant Supported Bridges
---
An implant supported bridge is a restorative solution for spaces where three or more adjacent teeth are missing. This restoration typically requires two implants to support the porcelain bridge. The bridge provides a functional and aesthetic replacement for a patient's natural teeth.
---
Advantages of an Implant Supported Bridge

Because of the natural look and feel of the porcelain and the functional stability provided by the implants, implant supported bridges are an effective solution to replace multiple missing teeth.


---

A traditional bridge uses teeth on either side of the gap where teeth are missing for support. An implant supported bridge uses two or more dental implants rather than the adjacent teeth. When a bridge uses natural teeth for attachment, the natural teeth must be prepped for crowns and are then subject to increased stress which may be damaging - particularly if the existing tooth, roots, or surrounding bone structure are already compromised. A dental implant supported bridge replaced your missing teeth and avoids putting any additional stress on your natural teeth.
---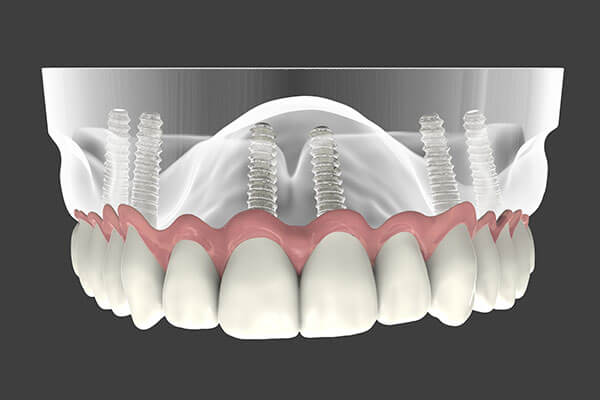 ---
Implant Supported Dentures
---
For patients who are missing many or all of their teeth, implant supported dentures may be an alternative to traditional dentures. This solution requires the placement of two or more implants. In order to replace a full arch denture, a minimum of four implants is generally recommended. Eligibility for this solution is dependent upon a number of factors, with jaw bone density being one of the most significant determining factors.
Traditional dentures rely on an acrylic base that sits directly on the gums, held in place by a paste or adhesive. Using implants as supports for dentures allows for a smaller and more comfortable base and less shifting of the prosthesis during use.
Implants can support both full and partial dentures as well as both fixed and removable dentures.  If a removable denture is selected, the denture will "snap" on to the implant rather than requiring the use of denture paste or adhesives. Removable dentures can be taken out for cleaning at night.
---
Implant Supported Dentures vs. Traditional Dentures

This technique offers many advantages over traditional dentures.


---

Easy to care for, this solution can simulate the look and feel of natural teeth and stay fixed in place with the implants acting as anchors. Patients will not experience the typical rocking and movement or gum irritation associated with dentures.

---

Dental implant placement can also help alleviate the sunken look that can occur with bone loss in the jaw by stimulating bone growth in the area around the implant. This process can also help prevent future bone loss.
---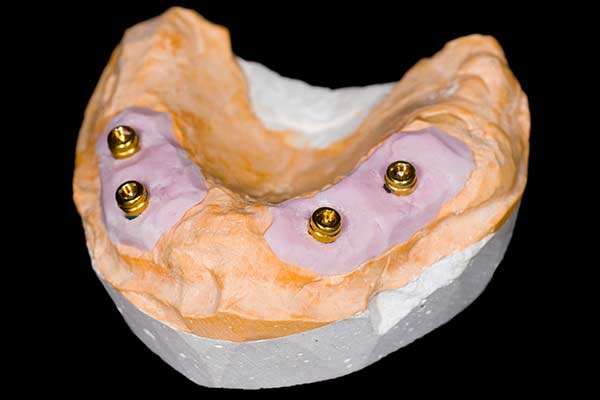 ---
Immediate Full Arch Implant Restorations
---
Except for special commercialized centers throughout the country, it is unusual that a patient can receive, in an independent private practice, the opportunity for full arch immediate implant restorations. We offer extractions, grafting, immediate implant placement and temporization in one day, in one location. That means the surgery, prosthetics and laboratory component will be completed without having to involve multiple specialists in different locations. This is unique and life changing. With careful case selection, we can provide patients with the opportunity for immediate function and esthetics in one day.
---
---