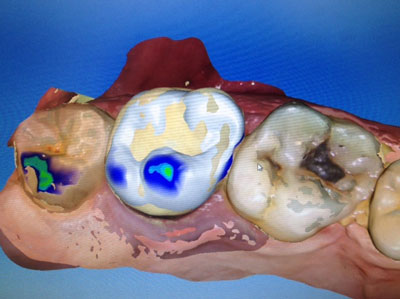 ---
Dentistry has undergone a series of significant changes in the last decade. Our contemporary practice is proud to offer the best of these advanced technologies including 3D scanning, digital impressions, and a centralized in-office CAD/CAM manufacturing center for one visit dentistry.
In addition, cross-specialty training allows us to complete all implant procedures in one location which includes extractions, grafting, surgical implant placement and immediate load applications (single teeth or full arch). The traditional protocol for implant procedures in the Unites States often involves multiple specialty office care. Among the many problems with this approach is that most surgeons have never fabricated an implant restoration and most restorative dentists have never placed a dental implant. So, it is the "disconnect" between the disciplines that is often not in the best interest of patients. Control and a thorough understanding of all phases of treatment cannot be overemphasized!
For our patients, this dual specialty approach not only offers considerable convenience but more importantly offers a higher level of predictable functional and esthetic outcomes.
---
CEREC® Same Day Restorations
---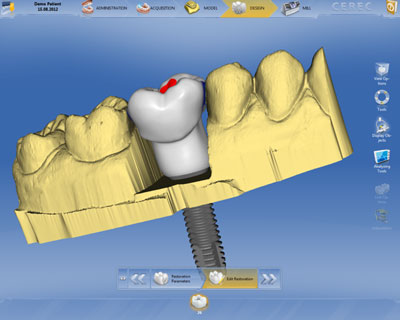 ---
We offer the possibility of same day crowns with in-office milling capabilities, another truly revolutionary concept. This means that in one visit (not two), a restoration is scanned (No more traditional impression material!), designed, milled and completed. This field has been driven by a merging of software advances and material science.  Studies indicate that restorations of this type (high  strength metal-free ceramics) offer a high level of esthetics, fit, and predictability with the convenience of avoiding any temporary restorations and a second visit. As a centralized in-house milling facility, this also offers the opportunity to fabricate various types of temporary crowns, implant restorations, implant surgical guides and even porcelain laminate restorations with careful patient case selection. Although this technology has actually been utilized for 30 years, we now have a better understanding of how the accuracy, fit, esthetics (can create more natural restorations) and newer material choice offer our patients similar, if not better than, lab-based outcomes in a significantly more time efficient manner.
---
Implant Placement and Procedures
---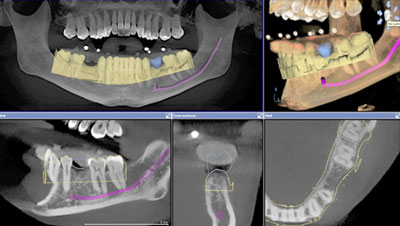 ---
We combine the advanced technologies of CEREC® and Sirona® Galileos CBCT to offer our patients with the highest level of care and safety when planning for and placing dental implants. Our team will obtain a 3D digital cone beam image of your mouth and jaw and we will also create a digital impression of your mouth(no more traditional impressions). These two files are then merged, creating a simulated implant placement that will correlate with your ideal tooth position. This data is then translated to construct a digital and model-less surgical guide that will assist in the planning and placement of the dental implants. This advanced preparation and planning is extremely useful and offers high surgical precision in cases of missing teeth where there is a minimal amount of space for implant utilization and in other situations where all traditional landmarks are missing. The overall benefits for patients include a higher level of safety with more predictable esthetic outcomes.
---
What might all this mean for you as a new patient?
---
We offer a unique set of skills and technology that provide tangible benefits which are not readily available to most patients. With cross-specialty training in prosthetics and surgery, it is very unusual that patients can receive all implant  related services in one location (surgical extractions, grafting, implant placement) and the opportunity for immediate implant restorations (single teeth and full arch). This is not only more convenient but leads to more predictable functional and esthetic outcomes. Patients also have the opportunity for one visit crown restorations.
---
One Visit Full Arch Immediate Implant Restorations
---
Except for special commercialized centers throughout the country, it is unusual that a patient can receive, in an independent private practice, the opportunity for full arch immediate implant restorations. We offer extractions, grafting, immediate implant placement and temporization in one day, in one location. That means the surgery, prosthetics and laboratory component will be completed without having to involve multiple specialists in different locations. This is unique and life changing. With careful case selection, we can provide patients with the opportunity for immediate function and esthetics in one day.
---